Today is Fresh Squeezed Juice Day, and Hot & Spicy Food Day! Yesterday I was going to go into
Stir It Up
and get some delicious fresh juice, but I didn't manage to make it there before they closed. Bummer! I'm hopefully going to stop in one day this week to make up for it, though! I was just reading the menu and kind of drooling over all the different juices they have... this one De was telling me about the other day:
Flu Shot

2 oz ginger, garlic, lemon with honey and cayenne Very concentrated and hard core!
Here are some other delicious juices!
Wake Up!

Pear, Orange & Fresh Mango

Ginger Rogers

Grapefruit Berry Delight

Grapefruit, Orange & Frozen Field Berries

Moroccan Magic

Clementine, Pear & Ginger Clementines are seasonal

Bird of Paradise

Red Grapes, Orange & Frozen Raspberries

Blue Banana

Pineapple, Pear, Blueberries & Frozen Banana

Liquid Candy

Red Grapes, Apple & Fresh Strawberries

Zeus Juice

Red & Green Grapes, Pineapple, Mango Nectar & Pomegranate Juice

Liquid Sunshine

Pineapple, Orange, Mango Nectar & Fresh Kiwi

Nutridelicious

Apple, Pear, Fresh Mango, Fresh Kiwi & Frozen Banana
Mmmm... I think I may stop in tomorrow and get one of these. If you guys are ever in Brantford, make sure to stop at Stir It Up! (Check out their
facebook fan page
for more info & the rest of their menu!)
I have seen this juice called "The Green Monster" a lot in the past little while, so I decided I was going to try it out. I saw it on
Simply Scrumptious
, and that brought me to
The Green Monster Movement
. Here is the recipe:
1 cup non-dairy milk (or dairy if you prefer)
1 tablespoon flax or chia seeds
1-2 cups raw spinach (Cooked if preferred)
1 banana
ice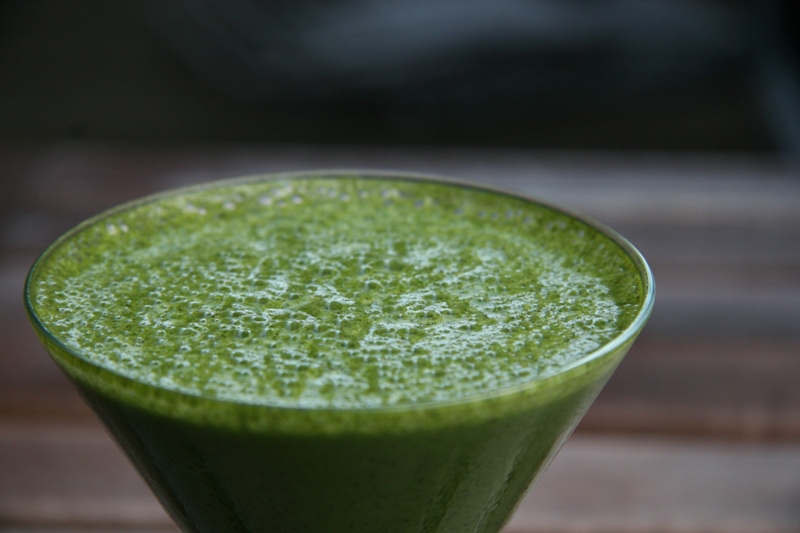 I went grocery shopping today and picked up all of the ingredients (I bought almond milk, and some vanilla soy milk) and I was all excited to make it and try it. I read that the banana overpowers the spinach flavour and it's actually really tasty. I got the blender out and was about to make it... but I can't find the seal or the gasket or whatever it's called. It's no where to be found. BUMMER. I'm really hoping that it turns up soon so I can try this out! I was all excited, thinking that I would like it and I could start off every morning with one of these... on top of being extremely healthy & making your skin glow, they are supposed to give you a ton of energy. Which I NEED. I want to try this so badly... hahaha. I really hope that seal pops up somewhere! Let me know if you guys try this! What is your favourite kind of juice/smoothie to make?