Hi everyone, it's Casee Marie from
The Girl Who Stole the Eiffel Tower
! I was elated when Holly invited me to write a second guest post while she's away on her fantastic and much-anticipated European adventure. In the spirit of her trip I decided to share with you the top five European destinations that would make up my dream trip. So settle in and enjoy my grand tour!

Montmartre, Paris, France
(image credit)
Considering my blog's name it's no surprise that Paris tops my list; I'd love to stroll down the Champs-Élysées (if such a busy street is really stroll-able), munch some macarons at Ladurée and inevitably catch a glimpse of that celebrated Eiffel Tower, but Paris holds a lot of charms outside of those attractions. I wouldn't be able to leave the city without experiencing Montmartre, the district located on Paris's Right Bank in the 18th arrondissement. Situated atop the highest hill in Paris, Montmartre is famous for establishing the very first cabaret,
Le Chat Noir
, as well as the famous Moulin Rouge, but what attracts me to Montmartre the most is the character of the district. If you've ever seen the fabulous film
Amélie
(and if you haven't, I suggest that you do!) you'll already be familiar with the quaint sort of charm of Montmartre's setting. The Two Windmills (
Café des Deux Moulins
), where Amélie works as a waitress in the film, is said to be a prominent tourist attraction. The cobblestone streets and bohemian elegance give it a unique storybook feel which, combined with its history of artistic inspiration - van Gogh, Toulouse-Lautrec and Salvador Dalí were among artists known to congregate there – make Montmartre an unforgettable and enchanting locale.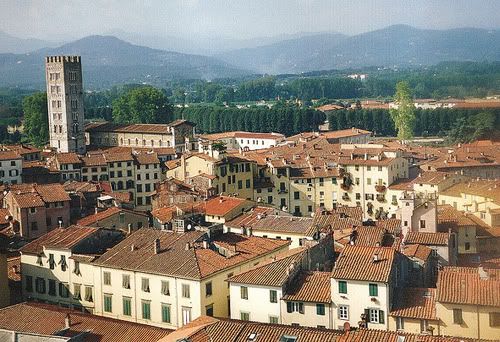 Lucca, Italy
(image credit)
Lucca is a medieval city nestled in Italy's Tuscany region. The original town is surrounded by a wall built in the Renaissance era, upon which a path runs, lined with trees, where people will take walks, ride bicycles or lounge. As time went on the city expanded beyond the wall, but it still maintains the picturesque old-world charm. For all its history, though, Lucca was a very independent city and has only been designated as part of the Italian State for less than two hundred years. It also has artistic history, with ties to poet Dante Alighieri as well as being the birthplace of composer Giacomo Puccini. The city houses libraries, museums, a myriad of basilicas and churches as well as film and music festivals. I've always loved the natural essence of Tuscany and to me Lucca is the embodiment of the region's appeal.

Prague, Czech Republic
(image credit)
What fascinates me about Prague is how rich in artistry it is. Mozart and Franz Kafka were both born here, and it's considered a prominent source of inspiration for musicians, writers, painters and other artists. I've also read that Mozart's influence is widely celebrated so if you're a fan of classical music that's certainly of interest. There are countless galleries and museums to be explored, as well as the obvious architectural achievements. I think it's such a uniquely beautiful city. And it also boasts the biggest ancient castle in the world!

Oslo, Norway
(image credit - Vigeland Sculpture Park Bridge)
I want to visit Norway for so many reasons, and not least among them is to visit some of the fabulous Norwegian bloggers I've come to know! If you're keen on fashion and fabulousness go visit
ByAnika
,
Barbro Andersen
and
Some Kind of Style
. Oslo has an interesting story: it was founded in the 11th century, destroyed by a fire, relocated to a different part of the country and renamed. It finally became Oslo once again in 1925. It's another extensively art-oriented city, the birthplace of Edvard Munch whose painting
The Scream
is quite popular here in the States. I also love the Norwegian music scene: some of my favorite contemporary artists from the country are
Sondre Lerche
,
Janove Ottesen
,
Kate Havnevik
and
Ane Brun
. And you may also know Oslo for holding the awards ceremony for the Nobel Peace Prize every year.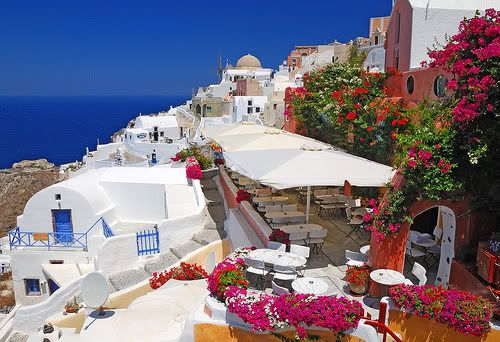 Santorini, Greece
(image credit; full set by Giuseppe Finocchiaro)
Okay, who
doesn't
want to visit Santorini? It's absolutely saturated with beauty, a fact I find completely fascinating considering the collection of islands is essentially the result of a volcanic explosion that destroyed the original singular island that it was. Nature works in amazing ways, doesn't it? It's also theorized that the eruption sparked the inspiration for the legend of Atlantis. The area known until just this year as Oia seems to be the most popular with tourists and while I usually try to avoid being touristy...that's exactly where I want to go, too! Apparently the sunset from Oia is considered famous and every night people will come outside to watch it.
I hope you enjoyed my trip through Europe. What would be your top five destinations?